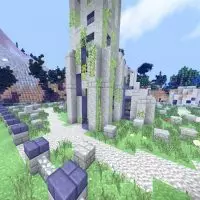 Crazy Craft Custom Terrain Structures Map for Minecraft PE
Version MCPE: 1.9.0 - 1.20.32
Download
Download the Crazy Craft Custom Terrain Structures map for Minecraft PE: an unbelievable generation with numerous wondrous biomes for you to explore.
Crazy Craft Custom Terrain Structures MCPE Map Highlights
The original Minecraft Bedrock Edition generation is a bit scarce on majestic views, lush forests, scorching deserts, and fabulous frozen lands of the North.
Gladly for many, there are dozens of modifications changing. Notwithstanding, map creators wanted to contribute as well by releasing various enormous and extraordinary locations.
Crazy Craft Custom Terrain Structures map is one of the most fascinating ones ever published on the Web. You have never seen anything even close to what you'll witness on this MCPE map.
Warm & Cold Biomes
The dichotomy of warm and cold continues here as numerous biomes whose temperatures are above zero coincide with the fragile world of frost.
For instance, most adventurous Minecraft PE users will find the Frozen Frost, where all trees have turned into ice and snow piles.
On the other hand, there's a volcanic area where lava pours over one little hill setting the whole territory on fire and destroying its unique ecosystem.
And it's no end: freezing plains can be found near the frozen woods. It's less harsh but is still unwelcome. One shall experience challenges surviving in this Minecraft biome.
Ordinary Regions
On the contrary, there are even areas as well without extreme temperatures. For example, vast swamps full of witches and dangers of the night.
Sunny Valleys are a welcome place to establish your settlement, but Flower Forest is the best. Bees buzzing around and eye-pleasing vegetation makes this place a paradise in Minecraft PE.
Still, one must visit the mountains perching up to the skies and scraping them. It's a region of unique wonders and dangerous cliffs.
Is Crazy Craft Custom Terrain Structures MCPE Map large?

Where do I find the Mountains?

You can increase your render distance and see them for yourself.

Are there structures?

Yes, this version contains various constructions.
download anchor
Download Crazy Craft Custom Terrain Structures Map