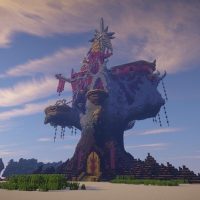 Equestria Map for Minecraft PE
Version MCPE: 1.8.0 - 1.20.32
Download
Download the Equestria map for Minecraft PE: explore the wondrous world of happiness and friendship.
Equestria MCPE Map Highlights
Minecraft's most exciting things is its endless possibilities of recreation. Users are mainly inspired by numerous other dimensions and universes.
Therefore the Internet is full of maps from Skyrim, Stranger Things, and even Winx Club. Equestria is one of the most prominent worlds ever recreated in Minecraft PE.
It features a massive region densely populated by bizarre friendly creatures of Winx Universe. Besides, magnificent castles and palaces, numerous little shacks, and more are present here as well.
Generally, the Equestria MCPE map is perhaps the best option for you to start your next adventures.
Cities & Towns
The creators did not hesitate to create marvelous cities of enormous sizes where skyscrapers break the heavens' fragile peace and little stores sell delicious foods and snacks.
All users are free to explore these cities and the capital of Equestria, having fun and discovering new places in Minecraft. Nearly all buildings are available to enter and admire the interior of the building.
On the other hand, there are little towns in the wild as well. They are mostly tiny and include only a few cabins but have unique vibes living in the countryside.
Still, these diminutive settlements have sights, too: clocks on central squares, taverns, and saloons in Minecraft Bedrock Edition.
Other sights
This Equestria map comprises other unique constructions as well. For instance, a few majestic palaces with gorgeous towers and golden corridors.
One of the most glittering mansions has put itself high up on the mountain range in Minecraft PE. You can visit this colorful creation along with Sweet Apple Farm and other vibrant places.
Most adventurous users shall find Rainbow House Dash and Town Hall Square — these were frequently shown in the original series.
Generally, there is a lot to admire and explore.
Is Equestria MCPE Map large?

Yes, this country is a big place.

Where do I find the Rainbow Castle?

It's up in the mountains.

Are there dangerous structures?

No, all of them emit only happiness.
download anchor
Download Equestria Map for Minecraft PE