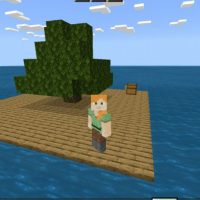 Raft Survival Map for Minecraft PE
Version MCPE: 1.16.0 - 1.20.15
Download
Download Raft Survival Map for Minecraft PE: try to stay alive, being in very difficult conditions and with minimal valuable resources surrounded by the ocean.
What is interesting in Raft Survival Map?
The developers are trying to complicate the gameplay in every possible way and offer Minecraft PE players the to test their strength in a battle with dangerous creatures or survive in dangerous conditions. Once on the territory of Raft Survival Map, the hero gets on a small raft surrounded by an endless ocean.
The future fate of the brave hero will depend only on whether he can cope with all the difficulties and not die in such an unusual location.
Raft Survival
The authors of this update for Raft Survival Map did not leave the players completely without resources. On a small raft, where the hero appears, a fairly large tree grows, and there is also a chest.
In it, brave Minecraft PE users will find a bucket and a wooden axe, as well as leather shoes and a map. To satisfy hunger in the first minutes, there is fried pork. And to try to get food – a fishing rod.
By the way, the main danger for the brave hero will be the ocean that surrounds this place from all sides. But it will also help you find food and other useful items.
It is worth noting that to win, you must go to the Lower World, and from there to the Edge and fight with the Dragon.
Ultras
This time it will be even more difficult for Minecraft PE players to save their lives. The fact is that the surface on which the hero will be located will become even smaller. And also the authors of the Raft Survival Map have added a new thirst scale, it must be constantly monitored as well as hunger.
By the way, there will be a chest on the raft. It will contain such useful items as a Distiller, Extractor, and Water Regenerator. By the way, when diving into the water, the player will receive damage, so it will not work to swim this time.
How to download Raft Survival Map?

Tap the file and open it in Minecraft PE.

Can I use this map with my friends?

Yes, the map can be used for a multiplayer game.

Can i use the map in the survival mode?

Yes, the map is suitable for the survival mode.
download anchor
Download Raft Survival Map for Minecraft PE