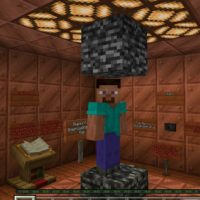 Escape the Dungeon Map for Minecraft PE
Version MCPE: 1.16.0 - 1.20.15
Download
Download Escape the Dungeon Map for Minecraft PE: try to escape from a creepy place underground, where many different monsters live.
What is interesting in Escape the Dungeon Map?
For all fans of dangerous and interesting challenges, the authors have created these add-ons for Escape the Dungeon Map. A wide variety of monsters, corridors full of dangers, and much more are waiting for Minecraft PE heroes on the territory.
Only those heroes who are not afraid to face their fears will be able to cope with all the tasks set.
Dungeon Escape
An exciting but very dangerous adventure awaits every Minecraft PE player who installs this update for Escape the Dungeon Map. According to the plot, he finds himself in a prison cell in an old building, or rather in the part of it that is deep underground.
Almost immediately after the start of the test, he receives keys that will help open the door. But it is after this that all the main events begin because to get out, you will have to go through creepy rooms inhabited by the living dead and even someone worse.
Zombie Dungeon
The main feature of this update for Escape the Dungeon Map is that to pass some tests, you will need to solve several puzzles. At the same time, the Minecraft PE player will constantly be attacked by terrifying-looking zombies.
They consider themselves the rightful owners of these inhospitable places and will try not to leave anyone alive. Therefore, only the bravest will be able to cope with them and reach the very end.
Escape
Interesting and diverse tests were also invented by the author of this add-on for Escape the Dungeon Map. There are five levels on the territory, each of which is made with a specific theme.
The Minecraft PE player appears in the information room during the spawn, where you can familiarize yourself with all the rules, as well as start the mini-game process.
How to download Escape the Dungeon Map?

Tap the file and open it in Minecraft PE.

Can I use this map with my friends?

Yes, the map can be used for a multiplayer game.

Can i use the map in the survival mode?

Yes, the map is suitable for the survival mode.
download anchor
Download Escape the Dungeon Map for Minecraft PE