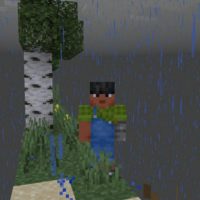 2D Map for Minecraft PE
Version MCPE: 1.16.0 - 1.20.15
Download
Download 2D Map for Minecraft PE: the cubic world has become incredibly flat and only the bravest and most resourceful heroes can survive in it.
What is new in 2D Map?
If it seems to users that there is absolutely nothing to surprise them in the game, then in this case it is worth installing a 2D Map. An unusual decision was made by the authors of this update and made the infinite cubic world flat.
It is worth noting that survival in such conditions will be a difficult test even for the most experienced Minecraft PE heroes. On the territory of an unusual location, there will be villagers with their houses, as well as a wide variety of biomes of the cubic world.
Test your strength and keep moving no matter what.
Survival
The authors of 2D Map offer players to test their strength in truly extreme conditions. The fact is that the surface available to players is only one block wide and 50 in length.
However, you can find some resources here, although there are much fewer of them than in the standard version of Minecraft PE. Users will learn how to survive in conditions of maximum restrictions. But it is worth warning that it will be extremely difficult to do this.
Use your imagination to make this adventure not only challenging but also interesting and exciting.
2D Map
Even more diverse adventures have been prepared for the heroes by the authors of this add-on for 2D Map. On their way, players will even meet villagers, as well as their houses.
Movement on the territory of the map can only occur forward or backward, as well as upward. Any other movements will simply be impossible. By the way, the main purpose of this test is to find opportunities to move to the Lower World.
Never before has the world of Minecraft PE looked so interesting and unusual. Be sure to try your hand at such an adventure and try to cope with it right now.
How to download 2D Map?

Tap the file and open it in Minecraft PE.

Can I use this map with my friends?

Yes, the map can be used for a multiplayer game.

Can i use the map in the survival mode?

Yes, the map is suitable for the survival mode.
download anchor
Download 2D Map for Minecraft PE