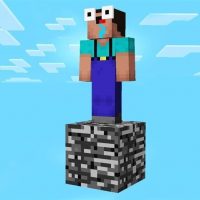 Survival on a Single Block Map for Minecraft PE
Version MCPE: 1.1.0 - 1.20.31
Download
Download the Survival on a Single Block map for Minecraft PE: challenge yourself with scarce resources.
Survival on a Single Block MCPE Map Highlights
Minecraft PE is a perfect place to create something new and unique.
Thence we have so many outstanding modifications and addons, epic maps with thrilling and intriguing stories, and beautiful texture packs.
One of the most notable outcomes of such liberty is minigames. There is a countless number of small genres with bizarre rules and conditions.
Survival on a Single Block is one of these minigames in MCPE, where users have to deal with limited resources and literally no materials at all.
However, it can't be as easy and fair as you might think since it's a minigame, after all. Try out for yourself and learn whether you'll pass the test or not.
Gameplay
You spawn on a single block in this Minecraft PE map. That's when you have to start thinking ahead and get the most out of it.
Fortunately, when users break one block, two additional appear: that's the main rule of the Survival on a Single Block maps.
Generally, the whole gameplay is based on breaking blocks and hoping you'll get the right one. However, it's been made that all MCPE blocks generate.
It denotes you can get obsidian or an End portal after breaking gravel or grass. Random and luck will define your playthrough: you might get fortunate and get all required blocks thick and fast.
To beat the game, Minecraft PE users need wood to craft stone tools, then iron to get diamonds, and later get obsidian to flee to the Nether.
This sequence is the best one but won't happen most of the time. Henceforth you'll have to analyze and save precious resources thoughtfully.
In conclusion, Survival on a Single Block Map shows us the resources aren't endless, and we have to spare them to survive. That applies in reality as well!
Is there a limit for the number of blocks in this Survival on a Single Block MCPE Map?

No, you can break as much you want.

Can blocks generate underneath the previous one?

No, they spread on one Y-level.

Can I get chests generated?
download anchor
Download Single Block Map for Minecraft PE