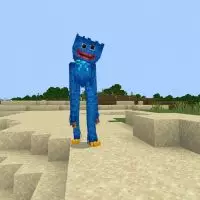 Huggy Wuggy Mod for Minecraft PE
Version MCPE: 1.16.0 - 1.20.31
Download
Download Huggy Wuggy mod for Minecraft PE and try not to fall under the hands of the wicked creature!
Huggy Wuggy mod for Minecraft
Poppy Playtime is an uncommon horror game. Keep in mind lots of puzzles. Fans of this game remember a character called Huggy Wuggy especially well. According to the plot, the lead character finds himself in a deserted toy factory, where difficulty awaits him.
Every fan of this game wants to move its atmosphere to the world of Minecraft. And now, with the help of mods for Huggy Wuggy and Poppy Playtime, Steve has a distinct chance to do simply that.
Huggy Wuggy mod
The peculiarity of this mod depends on the exceptionally top-quality detailing, which will significantly enhance the immersion in the environment of horror.
The main villain in the Huggy Wuggy mod in Minecraft PE can be developed using a spawn egg. The egg can be obtained from the player's inventory in innovative mode. The mob has two different attack types, which make it a lot more unsafe. When preparing to combat with him, Steve ought to beware because the animal has good damage and a lot of health.
Poppy Playtime
This is another very fascinating mod adjusted to the well-known scary game. The main antagonist is extremely harmful since he has the ability to kill the gamer with only one blow. This strike is performed by a sharp jump towards Steve, after which a huge amount of damage is caused.
The mob is quick sufficient to make every victim run without looking back. Both in a single-player game and a game with friends. The user should stockpile the very best armor and weapons to beat this beast in the Poppy Playtime mod in Minecraft PE.
How do I install this mod?

The file is in .mcaddon extension, so just tap on the file to automatically install the modification.

Can this mod be run in a multiplayer game?

Yes, for this it is enough just to be the owner of the card and install this modification on it.

What if the mod doesn't work?

Try to activate the experimental game mode.
download anchor
Download Huggy Wuggy Mod for Minecraft PE