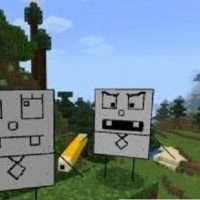 Spongebob mod for Minecraft PE
Version MCPE: 1.0.0 - 1.20.32
Download
Download Sponge Bob mod for Minecraft PE: play with Sponge Bob, Patrick, and Squidward, buy burgers and ride the boat.
Sponge Bob mod for Minecraft PE
These modifications were made for fans of the Sponge Bob cartoon series. In the MCPE game world, both neutral mobs and aggressive members will emerge.
Take a burger and a runabout, buy a burger from Sponge Bob and catch a jellyfish. And don't forget, you have your main enemy and your hater, Plankton!
Sponge Bob
The addon provided for Minecraft PE is incredibly large and will add many exciting things to your survival world. Neutral mobs like Spanch Bob, Gehry, Sandy, and Mr. Krabs will all come together in this modification, as mobs like Plankton, jellyfish, flying Dutch, and doodles of the protagonist.
By killing mobs of Halloween theme, you can get candy in the world of Minecraft PE. Eating it will restore the player's health and build resilience to fire. A new object, a gold blade, will also appear.
It can fall out of a robot – sponges. You can scratch a golden apple with it.
Colored Burgers and Vehicles
Even though it's food – the effect of colored burgers will be like potions in MCPE. You can only buy them from Sponge Bob for emeralds. In addition, the Minecraft Pocket Edition featured boats and a burger car, which are well developed in this modification.
You will be able to ride them fully and carry a trunk in the luggage compartment.
Squire Pants
The same mod will replace the villagers in Minecraft PE with Bob's favorite sponge cartoon characters.
Thanks to this, you can spawn cartoon heroes by yourself using the egg of call. Instead of the usual boring mobs, there will be identifiable characters walking around the village.
Added to the game: Sponge Bob, Plankton, Squidward, the funniest Patrick, Sandy, and grumpy Mr. Krabs!
What characters came from the cartoon in Minecraft PE?

There are Sponge Bob, Plankton, Squidward, Patrick and more.

Can I drive a car in these modifications for MCPE?

Who are the main enemy?

Like in the cartoon, It's plankton.
download anchor
Download Spongebob mod for Minecraft PE