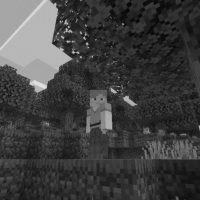 Black and White Texture Pack for Minecraft PE
Version MCPE: 1.14.0 - 1.19.63
Download
Download Black and White Texture Pack for Minecraft PE, and survive in a world without colors!
Black and White MCPE Texture Pack
The world of Minecraft PE is usually quite colorful. Players are used to the fact that each block has its shade, and the landscape is contrasting and bright. The developers of black and white textures propose to change the world by making it whole monochrome.
Colorless world
This resource pack makes Minecraft PE world look like a black and white movie. All objects and blocks, including the landscape, the sky, and the sun, turn gray.
By the way, survival can become much more complicated because you can even confuse the gray blocks with each other.
Additional effects
It also becomes difficult to notice mobs on the territory of Minecraft PE because their textures merge with the terrain. Meanwhile, different creatures can attack players, so they should be careful.
The black and white world is suitable for those who love noir and want to diversify the gameplay.
Black and White
Fans of old movies will appreciate this set of textures for Minecraft PE because the game world is black and white. The developer decided to leave the mobs their old texture. You can see that the sky will be blue. The sun also has a color, but much more subdued than usual.
By the way, Steve will also remain colored, so he is noticeable in the monochrome landscape.
Other details
Since the creatures in the game are the same, it will not be difficult to notice them, but you can accidentally mix up blocks. Black and white nature look unusual and contrasting.
Minecraft PE landscape elements are good combined. The game world becomes brighter and has more contrasts. For example, a walk-in in a birch forest will look like a scene from an old movie.
These effects are also noticeable if you look at the horizon near the water. Sunsets and sunrises also will become stunningly beautiful.
What if the texture pack doesn't work?

Try to activate the experimental game mode.

Can I use it on servers?

Yes, you are free to use it on public servers.

How do I install this texture pack?

The file is in .mcpack extension, so just tap on the file to automatically install the modification.
Download Black and White Texture Pack for Minecraft PE