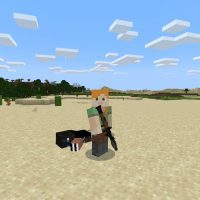 Call of Duty Mod for Minecraft PE
Version MCPE: 1.0.0 - 1.20.32
Download
Download Call of Duty Mod for Minecraft PE, and use firearms, knives, and military equipment to fight your enemies!
Call of Duty Mod for MCPE
During survival in Minecraft PE, the player has to fight a lot with hostile creatures. But if such battles are not enough for him, then he can try Call of Duty mod. This is one of the most famous computer games based on military action.
With the help of the modification, the player will be able to get military equipment at his disposal—for example, various tanks, helicopters, and even firearms.
Knives
This Call of Duty mod for Minecraft PE adds melee weapons to the game. First of all, it is worth noting that the player has the ability to throw these knives. Thus, this weapon is suitable not only for melee but also for ranged combat. There are three weapons in Call of Duty modification:
Name
Description
Tomahawk
It can be thrown over long distances. When hitting a mob, it takes eight hearts of life.
Throwing knife
The only difference from the previous weapon is that throwing a knife takes four hearts of life.
Loaded ballistic knife holder
When hitting creatures,

it takes ten hearts of health at once

. This is quite a lot, so this weapon would be an ideal solution for ranged combat.
To craft knives in Minecraft PE, the user will use mainly three items: grip, ballistic knife holder, and ballistic knife blades.
Modern warfare
Call of Duty Modern Warfare mod adds several new things to Minecraft PE at once. For example, there are soldiers and terrorists in the game who are constantly at war with each other. Also, in the modification, there is military equipment: helicopters, tanks.
However, you will not be able to ride them since when you appear in these helicopters, new creatures are waging war. Thus, the user can create a real war atmosphere right in his favorite game. It is also worth noting the presence of radio, machine guns, and a grenade launcher. The player can also instruct the soldiers to stand up and lie down.
How do I install this mod?

The file is in .mcaddon extension, so just tap on the file to automatically install the modification.

Can this mod be run in a multiplayer game?

Yes, for this it is enough just to be the owner of the card and install this modification on it.

What if the mod doesn't work?

Try to activate the experimental game mode.
download anchor
Download Call of Duty Mod for Minecraft PE