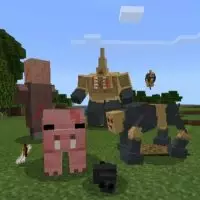 Parasite Mod for Minecraft PE
Version MCPE: 1.16.0 - 1.20.32
Download
Download Parasite Mod for Minecraft PE for Android: save the game territory from aggressive monsters!
Parasite Mod for MCPE
Minecraft PE players like to populate the world with new mobs, not always friendly. The Parasite mod will not only add unusual creatures. It also allows Steve to protect the world from the invasion of infected insects.
Parasites
The Parasites add-on adds 14 creatures to Minecraft PE that will grow and multiply all the time. Monsters need to be killed before they populate the entire territory. All mutants go through several stages: a beetle, an infected mob, and a parasite.
Mobs
Beetles grow very quickly and turn into destroyers in Minecraft PE.
The Destroyer infects passive mobs and turns into a random beast in 2 minutes.
It is important to know: infected mobs also infect other creatures.
Parasites have their hierarchy system. There are five varieties of Random Beasts. The bigger the mob, the more dangerous it.
Weapon
The mod will add a lot of new weapons to Minecraft PE. For example, a pickaxe is available in survival mode. It can be used to mine blocks. The scythe is even more powerful in battle, and the Bow shoots and infects creatures.
Parasites and biomes
The creator of the Operation Sanatio Parasite mod has added not only parasites. There are also new biomes in Minecraft PE.  Many players have seen a similar mod for PC.
Infected mobs and parasites will complicate Steve's survival. Among the infected animals, there are cows, sheep, spiders, pigs, wolves, zombies, and chickens.
The animals look creepy, but it's pretty easy to kill them.
Players will meet seven dangerous parasites. They are all scary and powerful. Parachute monsters attack with arrows. Paraflyers attack from the air, and the Pararammer can use the weakness effect as a weapon.
Bosses are big and have a supply of health in Minecraft PE. For example, the boss Super Paradestroyer has 900 health units. The danger is also that he flies.
By the way, the mod adds new biomes in which parasites live. These locations will appear instead of the deserts of the game.
How to install this mod?

The file is in .mcaddon extension, so just tap on the file to automatically install the modification.

Can this mod be run in a multiplayer game?

Yes, for this it is enough just to be the owner of the card and install this modification on it.

What if the mod doesn't work?

Try to activate the experimental game mode.
download anchor
Download Parasite Mod for Minecraft PE