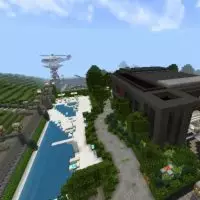 Big House Map for Minecraft PE
Version MCPE: 1.1.0 - 1.20.31
Download
Download Big House Map for Minecraft PE and get a nice building to live in it!
Best Big House Maps for MCPE
Map developers are constantly creating new locations for Minecraft PE. You can find big survival-friendly houses among them.
Smart House
Players can find this big house in the swamp biome of Minecraft PE. It looks modern, has a stylish design, and has a system of mechanisms.
On the second floor of the house, there is a large balcony with a beautiful view of the surrounding area. There are mountain structures and many trees in the territory near the house.
The building is not only large but also technologically advanced. All the mechanisms in it work on the basis of Redstone.
The map can be a great option for survival. Inside, players will see a beautiful interior with many rooms.
Villa
This map offers an even bigger house in Minecraft PE. This is not just a dwelling, but a huge villa on the ocean. The territory near the house is extremely large, it will take a lot of time for players to explore local buildings and landscapes.
The location has its advantages. There are several types of personal transport are available to players. Among them are large yachts, a basketball court, and even a helicopter. To protect against outsiders, a password is set at the entrance.
Mansion
This map offers players a large stone mansion. This one is perfect for Minecraft PE players which are looking for much space.
The house is made of stone, has everything you need inside, including furniture and decorative elements. For example, on the second floor, you can see pictures on the walls.
The house has three floors, stairs, and many windows inside.
The map of the big house is suitable for parties with friends and just for survival in the game world.
How to download Big House map?

Tap the file and open it in Minecraft PE.

Can I use this map with my friends?

Yes, the map can be used for a multiplayer game.

Can i use the map in the survival mode?

Yes, the map is suitable for the survival mode.
download anchor
Download Big House map for Minecraft PE