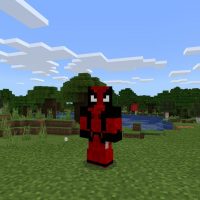 Spiderman Mod for Minecraft PE
Version MCPE: 1.0.0 - 1.20.31
Download
Download Spiderman Mod for Minecraft PE, and feel yourself in the place of your favorite comic book hero!
Spiderman Mod for MCPE
With the help of these mods, the user can not only look at Spider-Man in Minecraft PE but also take his place. The player can try on the costume of Spider-Man and other Marvel characters. For example, Deadpool, Captain America, and Iron Man.
Also, the player can arrange various battles between the spider-man and his sworn enemies. Kingpin, Scorpion, Venom, and many other mobs of comic book heroes are available in modification.
Marvel craft
This mod includes a wide range of character costumes and their weapons. In Marvel Craft Mod for Minecraft PE, the user and his friends can transform into Captain America or Iron Man if the spider suddenly needs help. Also, the player has access to weapons of various characters from marvel.
The player can burn everything around with the hammer of the thunderer. Or you can quickly move from place to place, using the spider's toddler's web. Deadpool, Black Widow, Wolverine, and even Loki, whose weapons and mobs are also available in this modification, were also not ignored.
Weapons
For lovers of simple but effective weapons, the authors added to Marvel Craft mod a katana and pistols, which are located in the place of an iron sword and an egg, respectively. It is also worth noting that the modification in Minecraft PE changed the bow to a rocket launcher. He fires a rocket, the speed of which depends on the clamping. When it hits, the projectile explodes everything around.
Spiderman
In this Spiderman mod for Minecraft PE, the most ruthless villains from Marvel have gathered to defeat Spider-Man. But the author took care of the team of spiders because there are four of them here.
Mobs appear with special animations and soundtracks. The villains in this modification also received abilities. For example, Mysterio, avoiding attacks, leaves a smokescreen.
How do I install this mod?

The file is in .mcaddon extension, so just tap on the file to automatically install the modification.

Can this mod be run in a multiplayer game?

Yes, for this it is enough just to be the owner of the card and install this modification on it.

What if the mod doesn't work?

Try to activate the experimental game mode.
download anchor
Download Spiderman Mod for Minecraft PE