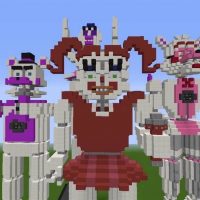 Sister Location Map for Minecraft PE
Version MCPE: 0.14.0 - 1.20.15
Download
Download the Sister Location map for Minecraft PE: a horrifying place full of monsters and neverending fear.
Sister Location MCPE Map Highlights
Minecraft Bedrock Edition is usually a peaceful and vibrant place where friendship thrives, and monsters perish.
However, it's not always the case, and this lovely sandbox survival can turn into a real nightmare. Besides, numerous maps and mods bring these horrifying and unpleasant feelings with them.
Moreover, Five Nights at Freddy's Sister Location is one of the scariest horror games you can play. It features a unique map where deadly animatronics came back from the undead.
Minecraft PE users have to fight them back in countless maps implementing Sister Location's aesthetics.
Nonetheless, one should be ready for the horrors you will certainly face. This map is no place for cowards but a perfect one to conquer your own fears and overcome yourself.
Interior
Once you've appeared in Sister Location, there will be a music disc with all valuable instructions. One comprehends his goals, to-does, and not-to-does.
As a matter of fact, MCPE users must preserve energy to hold the doors closed and light on. Both of these directly impact your life.
No energy means no closed doors and thence no life. This map is a lot about cooperation, resource management, and survival.
As you can tell, you might have to spend a few attempts to finish the game. Dreadful animatronics will follow you throughout your playthrough, causing you heart attacks and trouble in Minecraft PE.
FNAF Monsters
On the other hand, this map will make be active. no matter how scared you are. You will have to interact with these monsters. It seems your goal is to bring them back to the main scene.
It won't be easy since they shall try to kill you in Minecraft. Generally, they act almost like Hoglins in the Nether Update: they love your food but hate you.
Is this Sister Location MCPE Map large?

No, and it makes this place even more fearful.

Can I replay this map?

Is there a storyline?

Yes, you have to contain monsters in their cages.
download anchor
Download Sister Location Map for Minecraft PE