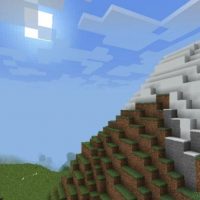 ESTN Shaders for Minecraft PE
Version MCPE: 1.13.0 - 1.20.32
Download
Download ESTN Shaders for Minecraft PE: add weather effects, realistic animation, beautiful colors, and much more!
ESTN Shader for MCPE
The Minecraft PE world is not very realistic. The developers created it as pixel space without many graphics details. A simple image is an important game feature, but many players want to make their world more natural, and ESTN shaders can do it.
Advantages
You can achieve naturalness in Minecraft PE with the help of ESTN shaders. The developer of the resource package was able to make the game space even better.
These shaders change the textures of the game. The sky will acquire new colors, sunsets and sunrises will become very beautiful. The rendering of water will improve, new shadows will appear, and much more.
Technical specifications
Thanks to these shaders, shadows in Minecraft PE will become much more noticeable. Users can look up and see the sky rendering improving.
Unfortunately, not all devices are compatible with ESTN shaders. Crashes are possible on some weak devices.
New water textures will appear in the game world. The underwater world will be a new place to explore. After installing shaders, players should pay attention to reservoirs.
Other features
Resource pack changes weather conditions in Minecraft PE. For example, fog will look much better. You can also see the animation of leaves on trees and the movement of plants.
The monochromatic rain effect will improve the animation of Minecraft PE. The developer has also provided an optimization system that helps to improve the gameplay even on weak devices.
The sun and moon are also updated. Now the usual sunset will be spectacular!
A unique feature of ESTN shaders is the ability to save settings. Users can also share them with their friends. You can use already created settings that affect your game world a lot.
What if the shader doesn't work?

Try to activate the experimental game mode.

Can I use it on servers?

Yes, you are free to use it on public servers.

How do I install this shader?

The file is in .mcpack extension, so just tap on the file to automatically install the modification.
download anchor
Download ESTN shader for Minecraft PE