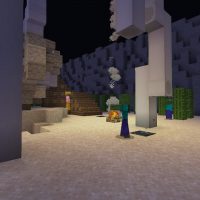 Zombie Apocalypse City Map for Minecraft PE
Version MCPE: 0.14.0 - 1.20.32
Download
Download Zombie Apocalypse City Map for Minecraft PE, and fight for your life with the undead!
Apocalyptic

City Map for Minecraft Bedrock

Everyone knows films where, it would seem, in the most peaceful time, disaster strikes for all mankind. People gradually begin to become infected and turn into zombies – the walking dead.

And the main characters will have a long struggle to save the whole world. Inspired by these stories, many builders of maps in Minecraft PE decided to create their maps on this topic.
Hardcore
This map is pretty old and works on almost all versions of Minecraft PE. Its small functionality does not diminish the pleasure of wrestling in the least.
The player has to withstand ten waves, after which he can be proud of his victory with confidence. Zombies must be released manually, one by one. Each of them has level numbers.
Apocalypse World
This map is inspiring in its size and appearance. This location accurately conveys the atmosphere of the destroyed world after the zombie apocalypse in Minecraft PE. While exploring the world, the player will stumble upon tall buildings covered with vines.
This map was originally conceived for the Hunger Games mini-game. Therefore, if you wish, you can organize an interesting game with your friends on it.
Zombie Escape
This apocalyptic city map, unlike others, has its storyline in Minecraft PE. According to it, zombies have caught and imprisoned the player in prison, from which you need to escape.
There are six plot chapters: city, house, subway, suburb, hospital, and library. Each of them has its history and its end. There are over 100 Command Blocks working on this map.
Zombies franchise
On this map, the player will have to fight with many zombies in Minecraft PE. Points will be accumulated in the course of the fight. Using these points, the player can open new locations, buy weapons. You can survive as long as your strength allows. This will make it possible to arrange competitions with friends.
How to install a map for Minecraft PE?

In order to install the map, you need to move it to the address games/com.mojang/minecraftWorlds.

How are maps installed in a ZIP archive in Minecraft PE?

First of all, you need to unzip the file, then move it to games/com.mojang/minecraftWorlds/

How are maps with the .mcworld extension installed in Minecraft PE?

After you download the file, run it. The map is automatically imported into the game.
download anchor
Download Zombie Apocalypse City Map for Minecraft PE