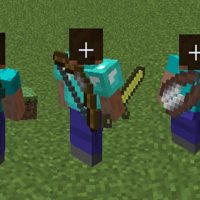 Backtools Mod for Minecraft PE
Version MCPE: 0.14.0 - 1.20.31
Download
Download the Backtools mod for Minecraft PE: you will look more threatening and severe with your tools behind you.
Backtools MCPE Mod Highlights
Minecraft Bedrock Edition has only one place to hold your belongings: your hands. One controls it using the UI at the bottom of the screen.
These nine slots represent the everyday things you have in your hands. However, you show only one thing to everyone, and it is what you are carrying.
Many users are not content with what they have. They want more opportunities to stand out and show what they have and achieved.
Putting tools, weapons, and other items on your back is one of the ways for you to set off and excel. Yet, it is impossible to do in Minecraft PE.
Luckily, there are countless addons you can find on the Web that introduce such an opportunity and bring more realism to the world of this sandbox survival.
Backtools
Though this small MCPE mod presents little functionality, it also brings out enormous opportunities for everyone to speak out and be who they want to be.
It seems the last item you were holding in your hand shall appear on your back. It will be there unless one switches an item.
If you want to show off your best sword in Minecraft, you should carry it first and then choose something else. Afterward, your super powerful diamond blade will be posing on your rump.
Power Tools
This Minecraft PE addon is a bit different. It adds new items you can utilize during your playthrough. These are handy and will ease one's life.
There's a chainsaw, and it cuts down an entire tree instead of a single block. Therefore you shall spend less time chopping down wood.
On the other hand, the jackhammer can help you with obsidian mining. It seems to destroy multiple blocks at the same time.
Generally, these tools save you lots of time, so you ought to craft them.
How do I get these new items in Backtools MCPE Mod?

Is the chainsaw convenient?

Yes, you will chop down a tree in no time.

Will new items appear on my back?
download anchor
Download Backtools Mod for Minecraft PE