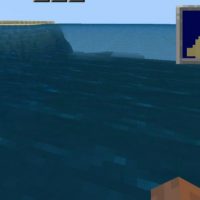 Minimap Mod for Minecraft PE
Version MCPE: 1.18.0 - 1.20.31
Download
Download Minimap Mod for Minecraft PE: use the new features to always know where the player is and easily navigate the territory.
Mini map Mod for Minecraft Bedrock
Developers add new features in each update that not only help players but also complicate the process of finding various resources. Therefore, the authors of Minimap Mod suggest using a special supplement.
After installing it, a small map will always be located on the Minecraft PE screen. With its help, the player will always have information about his location and what territory surrounding him. This will greatly help in the process of moving through cubic space.
Mini Map
This update for Minimap Mod will add new functionality to the game. Of course, players can craft a map themselves and use it in the process of movement. But, first of all, you need to spend time and find the resources to create it.
Secondly, the object must be constantly held in your hands, which greatly interferes in emergencies. Now the location information in Minecraft PE will be located in the upper right corner of the screen.
The user will be able to constantly have all the information in front of his eyes to explore the space. This is very convenient and will undoubtedly help in the process of survival and the search for valuable resources.
Radar
This update provides even more opportunities for Minecraft PE players. The first thing the user will notice is a map in the upper right corner of the screen with information about the biome in which Steve is currently located.
By the way, a special radar will be available in the Minimap Mod, which will indicate the location of any mines and valuable resources. Therefore, now their search will be much easier and more convenient.
Use special multi-colored markers to mark important points on the ground and always return to them quickly and promptly.
How do I install this Minimap Mod?

The file is in .mcaddon extension, so just tap on the file to automatically install the modification.

Can this mod be run in a multiplayer game?

Yes, for this it is enough just to be the owner of the card and install this modification on it.

What if the mod does not work?

Try to activate the experimental game mode.
download anchor
Download Minimap Mod for Minecraft PE