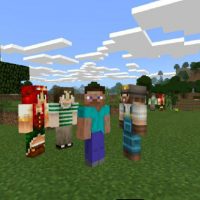 NPC Mod for Minecraft PE
Version MCPE: 1.2.0 - 1.20.31
Download
Download NPC Mod for Minecraft PE: make the gameplay more exciting, with the help of new characters, change their names and have fun.
What is interesting in the NPC Mod?
This update will allow you to diversify the standard set of non-player characters in Minecraft PE. It contains a variety of types that will also suit the creators of all kinds of maps and add-ons.
The NPC Mod will allow you to change their names, choose their appearance and interact with new inhabitants of the cubic world.
Custom
To create new characters in this update for the NPC Mod, the author has provided special summoning eggs, you can find them in the Inventory of the Creative Mode. A large selection of the presented options will allow you to diversify the gameplay.
It is worth noting that although these creatures do not have any function in Minecraft PE, they do not receive damage and can be used as extras or for other purposes.
Animated NPC
Even more diverse opportunities will be provided to players by this addition to the NPC Mod. It features more than a hundred new characters. Minecraft PE players can customize their health level or equip them with weapons or armor.
To get all the items, use the command /give @p fnpc. All the creatures have a unique appearance, as well as animation.
Advanced
Forget about boredom and monotony will allow players to NPC Mod. It is worth noting that this time the characters have animation of sleep, swimming and walking, and even intelligence. This means that these are full-fledged participants in the gameplay of Minecraft PE.
And those players who want to add even more action to the game should remember the command /function START_MANHUNT/DREAM. She will add hunters to the playing field, who will chase the player everywhere.
This is a great opportunity to have fun, and make the cubic world better and more interesting. Use it right now.
How do I install this NPC Mod?

The file is in .mcaddon extension, so just tap on the file to automatically install the modification.

Can this mod be run in a multiplayer game?

Yes, for this it is enough just to be the owner of the card and install this modification on it.

What if the mod does not work?

Try to activate the experimental game mode.
download anchor
Download NPC Mod for Minecraft PE