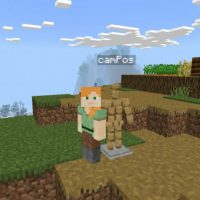 Replay Mod for Minecraft PE
Version MCPE: 1.16.0 - 1.20.31
Download
Download Replay Mod for Minecraft PE: shoot unique videos featuring other players or mobs and become a real filmmaker.
What is interesting in the Replay Mod?
For most users, Minecraft PE is more than just a game. Therefore, they want to share their experience and keep priceless moments in their memory. Especially for this, the authors created a Replay Mod. Thanks to the possibilities of this update, the heroes will have a chance to take a video of everything that surrounds them in the cubic world.
Set control points and start your first steps in the world of cinema, this fascinating process will not leave any user indifferent.
Features
First of all, it is worth noting that players will be able to set not only stationary but also dynamic focal points. Their installation takes place with the help of racks for armor. Be careful, because the /function remove_all command will delete all points, including the initial one.
The authors of Replay Mod have added the function of changing the playback speed and incredibly smooth camera movements. This means that Minecraft PE users who use this update will get a very high-quality result.
It is very easy to discover the world of cinema because this update allows you to make cool videos.
Start of use
You should start the process of getting acquainted with Replay Mod by entering the /function CThelp command. It is after this that the Minecraft PE player will receive comprehensive information about all the features of this update.
Next, set stationary or dynamic points. After everything is installed correctly and configured, a green-lit message will appear in the chat. It is enough to start shooting and observe the process.
Surprise everyone around with the appearance of your video about the game and perhaps this will be the first step to something more.
How do I install this Replay Mod?

The file is in .mcaddon extension, so just tap on the file to automatically install the modification.

Can this mod be run in a multiplayer game?

Yes, for this it is enough just to be the owner of the card and install this modification on it.

What if the mod does not work?

Try to activate the experimental game mode.
download anchor
Download Replay Mod for Minecraft PE