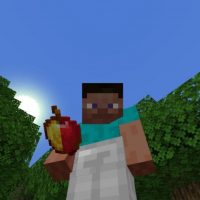 Cursed Minecraft Mod for Minecraft PE
Version MCPE: 1.2.0 - 1.20.32
Download
Download Cursed Minecraft Mod for Minecraft PE for Android and add strange and funny staff to your world!
Cursed Minecraft Mod for MCPE
Minecraft PE players who like funny mods will appreciate this one. It is a chance to troll a friend. Cursed things replace the ordinary ones. For example, water can be lava, and coal can be obsidian. There is a lot of such stuff, which can surprise the players.
Cursed Minecraft
There are several new items added to the game with this add-on. Sometimes they look like ordinary stuff but have unusual features in Minecraft PE.
Enchanted Stick can be an effective weapon, and Fake Diamonds can be the material for new armor.
The developer also offers players crafting Chainmail Leggings.
There are more types of additional weapons. For example, Fake Egg brings much damage, and nobody expects this attack. And Fake Glass Bottles can serve as food in this strange world.
Cursed Biome
This mod will add a new location to Minecraft PE. It includes a creepy atmosphere and many inhabitants. With this modification, new places and dangerous mobs will appear in the world.
Players can invite their friends into the game and explore new territories together, protecting each other.
About the biome
This biome is similar to one of the Nether locations. This place is rare, so you will have to look for it in Minecraft PE for a long time.
The unique monsters will spawn in this biome, all of them will be aggressive. They have more health compared to other monsters. And also, they will break your armor very quickly.
Among them are cursed zombies, cursed spiders, and many others.
Cursed Craft
The addon will add new items to Minecraft PE. They can help Steve survive, or they can cause problems.
In the world settings, you need to enable experimental functions. Diamonds are no longer suitable for creating diamond armor and tools. Instead, diamond bars will be required. To get diamond ingots, Steve can melt diamonds.
The recipes for diamond armor are the same, but the ingredients have changed.
A baguette is created from three pieces of bread and satisfies hunger three times better! Half of the golden apple serves to create new food faster. It also gives the regeneration effect for 10 seconds. Finally, shorts became the funniest item.
How do I install this mod?

The file is in .mcaddon extension, so just tap on the file to automatically install the modification.

Can this mod be run in a multiplayer game?

Yes, for this it is enough just to be the owner of the card and install this modification on it.

What if the mod doesn't work?

Try to activate the experimental game mode.
download anchor
Download Cursed Minecraft Mod for Minecraft PE