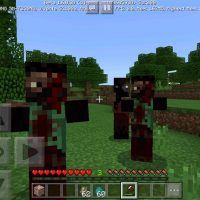 Crafting Dead Mod for Minecraft PE
Version MCPE: 0.14.0 - 1.19.83
Download
Download the Crafting Dead mod for Minecraft PE: survive in this dangerous world full of zombies.
Crafting Dead MCPE Mod
The Walking Dead is one of the most well-known series out there. It tells a story about the zombie virus world where humankind has descended.
On the other hand, Minecraft Bedrock Edition is a game with the most frequently spawning monster being a zombie.
It seems both of these projects match entirely and thence can be used to make mods and maps — no wonder the Internet is full of similar creations.
Minecraft PE users download countless amounts of these maps and mods, turning their lives into a real nightmare.
Crafting Dead is one of the most memorable and striking addons you can find on the Web. It features many new hostile creatures, weapons to fight off the hordes of undead, and more.
The undead
As soon as you install the Crafting Dead addon, typical zombies shall change: they are now called Walkers. This type does not burn in the Minecraft PE sunlight.
However, walkers cannot move as fast as regular zombies did before. Usually, they appear in groups since they are perilous that way.
Furthermore, there are Runners, and these are obviously capable of chasing users at high speed. Runners replace Husks and have only fifteen Heart Points.
Besides, many users report these furious beasts can jump on you and start biting you all over your body. Nonetheless, you are not alone in this fight for life in Minecraft.
Survivors & Weapons
On the other hand, in this mod, skeletons have been replaced by survivors. These intelligent human beings are trying to purge the Overworld from nasty walking deadmen.
Minecraft PE users can join their crusade and help eradicate the terrible plague. However, nobody can stop you from killing those poor people to get their loot.
It seems Crafting Dead adds numerous weapons to MCPE. For example, there is a wooden mace, a club, a screwdriver, and even a burning blade.
Generally, there is a lot to play with.
How do I get new weapons in Crafting Dead MCPE Mod?

Zombies and survivors drop them.

Are the new zombies strong?

Yes, they are more potent.

Are rifles efficient?
Download Crafting Dead Mod for Minecraft PE