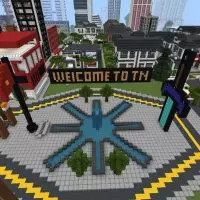 TN City Map for Minecraft PE
Version MCPE: 0.14.0 - 1.20.31
Download
Download TN City Map for Minecraft PE, and explore all the features of the famous city with great opportunities!
TN City Map for MCPE
One of the most famous cities in Minecraft PE is TN City. First of all, it is worth noting that this city can be launched on many game versions.
There are many different buildings here. Also, here the player can meet various restaurants, skyscrapers, a fire station, and even an airport. Thus, the user can have an exciting time with his friends.
An airport
First of all, it is worth noting the airport in TN City in Minecraft PE. It is located at the other end of the spawn location. Arriving at this location, the player can notice several different planes at once. Inside the building itself, there is everything that happens in a real airport.
The fire department and police station
Near the airport, the user can see the fire department in TN City in Minecraft PE. Finding out this location is quite simple: you will see a massive sign with the corresponding inscription.
In the fire department itself, there is a beautiful red helicopter for the most urgent calls. Looking to the left of this place, the player can see the police station. There is also a hospital nearby. The user can contact here at any time if he needs the help of doctors.
Restaurants
TN City has many different food outlets in case the player gets hungry. For example, when leaving the city, the user may notice a restaurant with a large inscription "Mushroom." Every player knows perfectly well that mushroom soups in Minecraft PE are very satisfying.
With their help, you can increase satiety by several units at once. Also in this city is KFC. In case the mushroom store is not enough, you can always replenish your stocks here.
Other buildings
Another interesting point of TN City is the huge construction site. There is also a yellow construction crane right here. Last but not least, it is worth noting the presence of a large number of houses and skyscrapers. Therefore, finding housing here will be easier than ever.
How to install a map for Minecraft PE?

In order to install the map, you need to move it to the address games/com.mojang/minecraftWorlds.

How are maps installed in a ZIP archive in Minecraft PE?

First of all, you need to unzip the file, then move it to games/com.mojang/minecraftWorlds/.

How are maps with the .mcworld extension installed in Minecraft PE?

After you download the file, run it. The map is automatically imported into the game.
download anchor
Download TN City Map for Minecraft PE