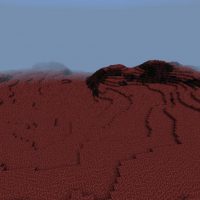 Biomes Map for Minecraft PE
Version MCPE: 1.4.0 - 1.20.31
Download
Download Biomes Map for Minecraft PE and visit new places of the game world, see different landscapes and unique blocks, which you can use to survive!
Best Biomes Maps for MCPE
Minecraft PE players constantly see new biomes inside the game. There are also new territories being added. But there is a way to expand the terrain of the world. To do this, you can install one of the biome maps.
Nine Biomes
This map will be interesting for experienced Minecraft PE players because they will meet biomes familiar to them. Locations will look a little different than usual but still have necessary blocks.
There is a spruce biome among the new places. It is similar to a desert in climate but also has the humidity of a spruce forest. Here, users can also pay attention to the many mountain structures.
The winter biome is covered with snow. It looks natural and beautiful. Here you can enjoy pure nature without hurrying to explore the whole area.
There are also plains, deserts, tropics, hills, and others.
Island Biomes
It is one of the most interesting places with new biomes. The map consists of five islands, each of which represents a specific biome of Minecraft PE. These are ideal locations for survival and quite interesting territories to explore.
Locations will be useful for those who are looking for new resources and want to improve their survival skills.
Before you start the adventure, make sure you have activated the experimental mode.
Sky block
This location will be a challenging survival in Minecraft PE. Players will constantly lack resources. Also, there is a risk of dying by falling from a height.
The map is suitable for experienced users and those who are looking for new biomes for survival.
Each part of the area will be represented as a biome. There are deserts, forests, plains, and the End among them.
How to download Biomes map?

Tap the file and open it in Minecraft PE.

Can I use this map with my friends?

Yes, the map can be used for a multiplayer game.

Can i use the map in the survival mode?

Yes, the map is suitable for the survival mode.
download anchor
Download Biomes map for Minecraft PE