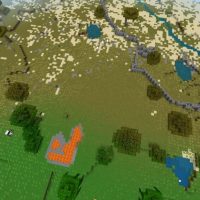 Earth Map for Minecraft PE
Version MCPE: 1.16.0 - 1.20.32
Download
Download Earth Map for Minecraft PE and travel around the game world, visit all the continents, see new landscapes, and the beautiful nature of different countries!
What is the Earth Map for MCPE?
Minecraft PE users who love traveling will appreciate the Earth map. The developers have created not just one location but a large territory.
It is unique, there have never been such large-scale maps depicting real places in detail before. Players will have to spend many hours exploring.
Main Features
The map is a small copy of the Earth in Minecraft PE. Players can carefully study every piece of our planet: the developers have added all the continents.
Here you can meet different climates, visit all the countries, see beautiful nature from different parts of the world.
Experienced players used to see such a map in the PC edition of the game a long time ago. Now you can travel around the world using the Pocket Edition.
Scale
Initially, the Earth map scale was 1 to 2000. It is a big load on a mobile device, even if it is powerful. In this regard, Minecraft PE players constantly had problems in the application, and they could not fully enjoy studying the map.
The developers eventually changed the scale: now it is 1 to 4000.
Other details
The Earth map includes countries such as the United Kingdom, Denmark, Norway, Iceland, Antarctica, and even the United States and Russia.
Minecraft PE players can use the map as a basis for their own construction. During playing with friends, you can create a whole city and survive together.
Of course, such a large-scale development takes up a lot of memory in the phone. So it is worth considering this feature in advance.
By the way, the coordinates of the area almost correspond to the real ones. There are some differences because the map was ported from the java version.
How to download Earth map?

Tap the file and open it in Minecraft PE.

Can I use this map with my friends?

Yes, the map can be used for a multiplayer game.

Can i use the map in the survival mode?

Yes, the map is suitable for the survival mode.
download anchor
Download Earth map for Minecraft PE