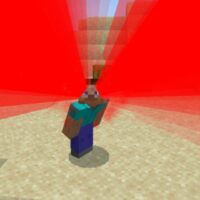 Laser Eyes Mod for Minecraft PE
Version MCPE: 1.19.0 - 1.20.15
Download
Download Laser Eyes Mod for Minecraft PE: Get another superpower and destroy any enemies with just one glance.
Laser Eyes Mod for Minecraft Bedrock Edition
In the real world, many would like to have such an opportunity, but it is available only to Minecraft PE users who install Laser Eyes Mod. They will be able to craft a unique item for themselves, wearing which they will not need to shoot at the enemy or beat him with a sword – it will be enough just to look at him.
This is a great opportunity to deal with all your abusers, as well as get more useful loot from defeating the most diverse mobs in the cubic world
How to get
A feature of this Laser Eyes Mod update is that players can get a unique device in any game mode in Minecraft Bedrock Edition. In survival, players need to take six iron ingots and two red stones to craft it.
In Creativity Mode, just open the Inventory and instead of a turtle shell, this useful device will be located there.
How to use
To use a unique device in the Laser Eyes Mod, simply install it in the helmet slot. Next, players need to sit down, after which huge red rays will appear from the eyes of the Minecraft PE hero.
They are the ones who bring death to all living things that come into their field of vision, regardless of whether this creature is peaceful or hostile. So be careful and do not burn your pets.
Features
In addition to the actual function of destroying all life within range, the device in Laser Eyes Mod can also be used to illuminate the space at night or in caves.
But Minecraft PE players should keep in mind that the place where they direct their gaze will be destroyed and a funnel will appear. Experiment with the use cases of this device and win any battles.
The possibilities are very extensive and this will help each user to get an unique gaming experience in the cubic world.
How do I install this Laser Eyes mod?

The file is in .mcaddon extension, so just tap on the file to automatically install the modification.

Can this mod be run in a multiplayer game?

Yes, for this it is enough just to be the owner of the map and install this modification on it.

What if the mod does not work?

Try to activate the experimental game mode.
download anchor
Download Laser Eyes Mod for Minecraft PE