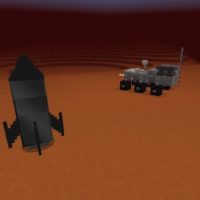 Mars Map for Minecraft PE
Version MCPE: 1.19.0 - 1.20.15
Download
Download Mars Map for Minecraft PE: become a real explorer of an unknown planet, equip your home, and study the features of this place.
What is interesting about Mars Map?
Every user who installs Mars Map can feel like a participant in a space research program or a character in a futuristic movie. The authors have placed several buildings, a rocket, a rover, and much more to immerse Minecraft PE players in the atmosphere of incredible adventures.
It is worth noting that the landscape of this place is very different from everything that previous players could see in the cubic world and completely repeats the territory of the red planet. This location is also perfect for exploring in multiplayer mode, where each of the characters can choose their unique role.
Main Features
The uniqueness of the Mars Map territory lies in the fact that here players will not see the green vegetation or blue water familiar to Minecraft PE. Instead, the entire surface will consist of red blocks, while reservoirs will be filled with orange liquid.
All this looks extremely futuristic and helps to fully immerse yourself in the unique world of the red planet. The first thing the player who appears at this location will see is the interior of the building. There is everything you need to survive and conduct experiments or experiments.
Armor or Spacesuit
The authors of Mars Map took care not only of the Minecraft PE world surrounding the players but also of their appearance. The fact is that the hero will spawn immediately in a spacesuit that protects the body and head from external influences.
Also, while in this outfit, players receive special effects that will undoubtedly help in the process of survival in an unfamiliar place.
Movements
Minecraft PE players on Mars Map will get two transport options at once. First, they will have a rover at their disposal. This device will allow you to easily overcome obstacles on the way.
You can also use a rocket to travel in space, which is located near the main building.
How to download Mars Map?

Tap the file and open it in Minecraft PE.

Can I use this map with my friends?

Yes, the map can be used for a multiplayer game.

Can i use the map in the survival mode?

Yes, the map is suitable for the survival mode.
download anchor
Download Mars Map for Minecraft PE