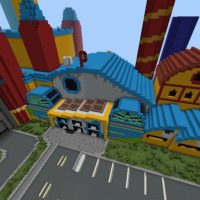 Huggy Wuggy Map for Minecraft PE
Version MCPE: 1.18.0 - 1.20.32
Download
Download Huggy Wuggy Map for Minecraft PE: visit the famous toy factory and try to stay alive after this adventure!
Best Huggy Wuggy Maps for MCPE
Even those who have never played Poppy PlayTime know what Huggy Wuggy is. Developers of maps for Minecraft PE decided to please fans of the horror genre with the locations of their popular story game.
Users will be able not only to be at the factory where the famous story began but also to solve puzzles from the author.
PlayTime Map
The developer of the map for Minecraft PE took as a basis the famous story about Huggy Wuggy. This blue monster, with other creepy toys, appeared at the factory. The factory building is present on the map and occupies a large area.
Locations
At first, the Minecraft PE player finds himself in the parking lot in front of the building. There is a car here, and it looks like one of the factory employees is inside.
By the way, the developer came up with a plot. According to it, the main character used to work here and came to unravel the secrets of his employer. Steve's colleagues began to disappear under mysterious circumstances, and he decided to find out what the reason was.
Since there is every reason to believe that Huggy Wuggy lives inside the building, players should put on armor and take weapons.
When users get inside, they will see a lot of rooms, among which is the toy production, where the blue monster once appeared. The locations are worked out in detail and occupy a large territory. So it's worth taking the time to explore them all.
Poppy PlayTime
Creating this map for Minecraft PE, the developer was inspired by the story of Huggy Wuggy and other toys from an abandoned factory.
The location is a combination of horror and puzzle genre. At the same time, the developer left a minimum number of hints on the map, so you will have to explore every corner of this place.
How to download Huggy Wuggy map?

Tap the file and open it in Minecraft PE.

Can I use this map with my friends?

Yes, the map can be used for a multiplayer game.

Can i use the map in the survival mode?

Yes, the map is suitable for the survival mode.
download anchor
Download Huggy Wuggy map for Minecraft PE