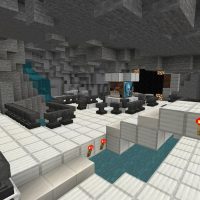 Batcave Map for Minecraft PE
Version MCPE: 1.0.0 - 1.20.32
Download
Download Batcave Map for Minecraft PE, and feel like a superhero by sneaking into Batman's hideout!
Batcave Map for MCPE
Anyone interested in superheroes must know about Batman. This hero lives in Gotham city and protects its inhabitants from various enemies. Like any superhero, Batman has a special hideout to store his weapons, vehicles, and more. This place is called Batcave. Players in Minecraft PE have the opportunity to visit this hideout themselves and inspect everything here.
Batcave
When the Batcave map in Minecraft PE appears, the player will notice a small hole in the ground and a lever. The user needs to pull this lever to open the hidden door. Thus, the player will be able to get into Batman's secret hideout. Going down, he will need to activate various levers.
Some of them are in charge of light, while others are in charge of opening doors. For example, behind one of these doors is a batmobile, on which the superhero travels constantly. Also, on the Batcave map in Minecraft PE, the user can detect Bat-signal and even activate it.
Batman cave 2
This is a newer version of the Batcave map in Minecraft PE. In Batman Cave 2 map, access to Batman's hideout can be obtained using a stone button. It is located directly in front of the player after spawning on a rock, not immediately visible.
After clicking on the button, a passage will open, and the user will go down the stairs to the Batcave. Here he will meet various rooms and secret places.
Batcave murder mystery
Many players are familiar with such a mini-game in Minecraft PE as Murder Mystery. Participants are divided into innocent and murderer. The killer must kill all innocent people before they can figure out the culprit.
Now you can play this game in Batman's hideout. First, you need to go to the randomizer to determine who will be the killer, and after that, you should start the game. It is worth noting that there are many secret paths on the map.
How to install a map for Minecraft PE?

In order to install the map, you need to move it to the address games/com.mojang/minecraftWorlds.

How are maps installed in a ZIP archive in Minecraft PE?

First of all, you need to unzip the file, then move it to games/com.mojang/minecraftWorlds/.

How are maps with the .mcworld extension installed in Minecraft PE?

After you download the file, run it. The map is automatically imported into the game.
download anchor
Download Batcave Map for Minecraft PE