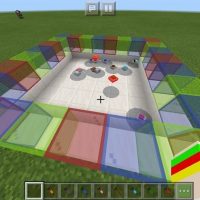 Beyblade Mod for Minecraft PE
Version MCPE: 0.14.0 - 1.20.31
Download
Download the Beyblade mod for Minecraft PE: epic Japanese comics join this sandbox survival.
Beyblade MCPE Mod
Beyblade are spinning toys first released in Japan and gained popularity throughout the world recently. These metallic fighting devices are launched at each other.
The one that stands spinning the last is the winner. Beyblade got famous, and thence many kids played it with their friends. Now, it is even available in Minecraft PE.
This game's community has always been creative, and it proved once again its geniality. Henceforth Beyblade toys can be found in the Overworld.
Minecraft Bedrock Edition has just become more exciting.
Types
First of all, there are sixteen unique colorful versions of this deadly but entertaining toy. It seems it does not have any differences at all, besides the color.
Notwithstanding the above said, Minecraft players do have a choice to make to stand out from other friends. And differently colored options are perhaps the best way to set off.
Blue, red, green, yellow, orange, brown, gray, and other Beyblades are available to compose and utilize in the challenging battles in Minecraft PE.
Functionality
Furthermore, the Beyblades toys, also called "pups," "wolf cubs," or "wolflings," can offer different play styles, each of which differs and makes a notable contrast.
First of all, you need to get these metallic dolls. Unfortunately, one cannot craft them: they are available only via commands.
Therefore your Minecraft world must have the cheats on in order to get Beyblades. Type the /function beys to get one of the iron dolls.
Nonetheless, you can only get one Beyblades plaything at a time. Yet, there is a command to obtain all its assortment: /function summon_all_beys.
Thence one will possess all sixteen uniquely designed fighting tools. You need to build an arena and start your games.
How do I get the toys in Beyblade MCPE Mod?

You obtain them using commands.

Do these dolls damage me?

No, they can only hurt each other.

Are there brand-new materials?

No, this addon present only new mobs.
download anchor
Download Beyblade Mod for Minecraft PE