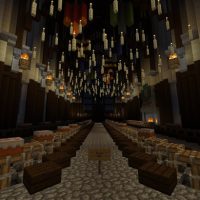 Hogwarts map for Minecraft PE
Version MCPE: 0.14.0 - 1.20.32
Download
Download Hogwarts map for Minecraft PE: feel like a real wizard on Hogwarts map!
Hogwarts map for Minecraft PE
Hogwarts School of Witchcraft and Wizardry is the same school in Harry Potter films where all the events of movies and games occur. Usually, the first thing the players remember about the universe of a boy who survived is this school.
Therefore, not surprisingly so many different Hogwarts variants in Minecraft PE. Simultaneously, some such creations have become real assets and deserve special attention.
Simple Hogwarts
Given that Hogwarts' design has not changed, all cards on the list will be the same, except for a few moments. For example, a feature of this map is support for older versions.
That is, players with an older version of Minecraft Bedrock Edison can also feel like a real magician. It should be noted that the entire ancient castle is built of old blocks. Mostly rock and sandstone from the oak boards.
The building is a bit empty, by the way, but it doesn't stop you from enjoying its beauty.
Extended Hogwarts
This map for the Minecraft Bedrock Edition differs from the slightly updated design of the castle itself. It now uses new blocks. Besides, the general style and level of detail became markedly greater. Hogwarts finally became more like himself. Sharp spires, long corridors, and hundreds of floating candles – all of this.
Hogwarts and surroundings
As you can see from the name, this area is happy that users will discover vast fields, dense forests, and deep lakes in addition to the castle itself. You'll find many different buildings, like Hagrid's hut and the Quidditch field. So you'll have lots of options.
Players can visit an entire school of magic. You can go to the marina, of course, or you can go to the botanical gardens. On the other hand, you can climb the tallest tower and admire the view from the window in Minecraft PE.
In general, this map will bring you pleasant memories and delight you with its interpretation of the ideas of movies and books in the game.
Can I find Hagrid's hut in Minecraft PE?

What blocks are Hogwarts built from in MCPE?

Mostly rock and sandstone from the oak boards.

May I visit Hogwarts Castle?
download anchor
Download Hogwarts map for Minecraft PE