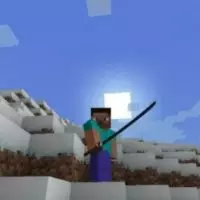 Demon Slayer Mod for Minecraft PE
Version MCPE: 1.17.0 - 1.20.31
Download
Download Demon Slayer Mod for Minecraft PE for Android: attack your enemies with a beautiful Japanese weapons from a popular anime!
Demon Slayer Mod for MCPE
There are many Minecraft PE players who love anime. They will appreciate this add-on for sure. True fans will recognize the Demon Slayer. It is a magic sword from a famous anime story published in 2016 and is popular in the game community.
Demon Slayer
Sword Destroying Evil, well known as Demon, Slayer is a sword with cool features. Players can try it in their Minecraft PE and use it against aggressive creatures.
The modification gives Steve several swords with different ways of attack. This weapon is perfectly suitable for all the fights. It is not just a weapon for killing but a part of the Japanese culture.
It is necessary to activate the experimental mode to make the mod work.
There are flames around making beautiful patterns in the sky. The attack looks spectacular. There are several ways of attack helping Steve create the entire performance.
Animated Swords
The Demon Slayer is the best modification for players who are looking for a new weapon in Minecraft PE. The developer of these swords created a natural Japanese blade.
The mod adds new items to the world. Users can get two swords. One of them represents fire, another – water. There is an amulet for each one. By the way, swords give players the option to choose the attack.
Steve can change the elements. There are more than seven amulets on each sword.
You can fight mobs using this dance art. For example, the Fire God dance is perfect for such a fight. It is an opportunity to attack beautifully in Minecraft PE. Surprise other players, use this add-on and win the fight.
It is easy to notice cool animations after downloading the mod. During an attack, players have better moves.
How to install this mod?

The file is in .mcaddon extension, so just tap on the file to automatically install the modification.

Can this mod be run in a multiplayer game?

Yes, for this it is enough just to be the owner of the card and install this modification on it.

What if the mod doesn't work?

Try to activate the experimental game mode.
download anchor
Download Demon Slayer Mod for Minecraft PE