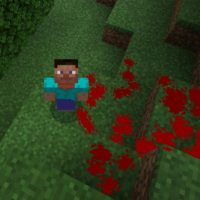 Blood Mod for Minecraft PE
Version MCPE: 1.12.0 - 1.20.32
Download
Download Blood Mod for Minecraft PE: make fights more realistic, and also get the opportunity to track the victim by the traces left.
What is new in Blood Mod?
For all fans of thrillers and horror films, the developers have prepared a Blood Mod. It will add more realism to battles and fights.
The thing is that in Minecraft PE there are usually no visual effects that would appear during a fight or defeat of an opponent. With the new update, players will be able to feel like they are in a real fight and even track the victim on a bloody trail.
Users can feel like a participant in real battles that will be full of realism.
Opportunities
Minecraft PE is played by users of all ages, so in the cubic world, cruelty is excluded from the gameplay as much as possible. For those players who want to get more realistic during fights with opponents, a Blood Mod has been created.
Now, if the victim is injured, she will leave traces behind her, by which, if necessary, she can be tracked. Each blow will create splashes in all directions.
Also, in case of complete defeat, players will be able to observe the blood stains that remained at the place of the death of the mob.
Mechanics
Blood Mod is created in such a way that absolutely all affected mobs, players, and residents will leave a red trail after their death. Including creepers, spiders, and zombies.
On the battlefields of Minecraft PE, users can see the consequences of fierce battles and thus understand what kind of events took place in this place. The effect will appear both when wounded and when taking damage.
Players will also be able to choose the duration of displaying bloodstains on the surface. If a short delay is selected, the traces will disappear quickly. If a long-term option is chosen, then the consequences can be washed off with water.
Users can arrange real battles full of realism right now.
How do I install this Blood Mod?

The file is in .mcaddon extension, so just tap on the file to automatically install the modification.

Can this mod be run in a multiplayer game?

Yes, for this it is enough just to be the owner of the card and install this modification on it.

What if the mod does not work?

Try to activate the experimental game mode.
Download Blood Mod for Minecraft PE