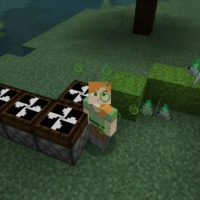 Traps Mod for Minecraft PE
Version MCPE: 1.14.0 - 1.20.32
Download
Download Traps Mod for Minecraft PE: create unique systems to protect your home or help users catch prey.
What is interesting in Traps Mod?
Traps Mod allows players to use new features to defend against enemies or catch prey. In the arsenal of the hero, there will be many different items that can be used singly or combined to improve the operation of the system.
Now Minecraft PE users can be calm, using new devices, and no villain will be able to pass unnoticed.
Users can also use devices for hunting various animals, while users do not need to waste energy and chase them. The prey will fall into the trap itself. Also, all items can be used to create survival maps.
Different Items
New devices will go not only for protection but also in order to catch any mob. Thanks to Traps Mod, various devices will be available to Minecraft PE players:
false grass – if the victim stands on such a block, it will immediately collapse. Therefore, to enhance the effect, the player can make a pit under it and add poisonous thorns;
arsonist – lights up if someone stands on it. There is also a variant of the sand Shower, it has the same effect, but the damage is twice as much;
fan – it lifts everyone who stands on it into the air as long as the object is in the range of this unit;
holographic and venomous spikes – the former cause damage when they contact everyone except Steve. The latter is dangerous for him too.
In order to get items, players can use commands. For example, /give @p tramp:fake_grass.
More Traps
This update for Traps Mod is distinguished by the presence of a large number of different dynamite blocks, some of which can explode just by touching them.
Also, Minecraft PE users have empty blocks, lighters, and other items, combining which players can create a protective system capable of catching any opponent. Players can use and combine different blocks at their discretion to achieve the best result.
How do I install this Traps Mod?

The file is in .mcaddon extension, so just tap on the file to automatically install the modification.

Can this mod be run in a multiplayer game?

Yes, for this it is enough just to be the owner of the card and install this modification on it.

What if the mod does not work?

Try to activate the experimental game mode.
download anchor
Download Traps Mod for Minecraft PE