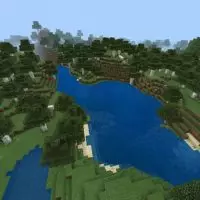 Ambient Sounds Mod for Minecraft PE
Version MCPE: 1.14.0 - 1.20.31
Download
Download Ambient Sounds Mod for Minecraft PE, and hear new effects adding more realistic details to the nature, mobs, and weather of the game world!
Ambient Sounds Mod for MCPE
Minecraft PE has many sounds, which help players feel like they are in the real world. Different animals and nature have their own acoustic effects. But there is a way to make the game even better. Developers created Ambient sounds mod to solve this problem.
Realistic Sounds
This resource pack is created for Minecraft PE to make every sound in the game more realistic! Zombies will be scarier, portals to other worlds will become creepy and mysterious, there will be natural weather sounds, and much more.
Realistic Sounds mod replaces more than 550 sounds, and all of the ambient sounds have high quality with digitally enchanted.
Ambient Sounds
Players can feel themselves in the Minecraft PE game world like a real one, and not only visually. The developer of the Ambient Sounds mod suggests replacing the familiar sounds of the Sandbox.
By the way, each biome will have its sound corresponding to the real world.
Locations and their sounds
Minecraft PE users can feel the main changes in the Overworld and in the Nether. The Nether creatures will get more diverse sounds. It will add realism and may even scare the players. In the End dimension, you can also feel the changes: dragons will make unusual and scary sounds.
Rivers, seas, and oceans will become more natural. The ambient sounds will be complemented by the splash of waves and the wind effects.
Forests and plains will acquire new voices of birds and animals. Minecraft PE players will even be able to hear the rustle of leaves on trees and the sounds of the wind. In deserts, if you listen closely, you can notice the sounds of predatory animals that eat their prey.
By the way, the mod developers have added ambient sounds from the PC version to the caves.
How do I install this mod?

The file is in .mcaddon extension, so just tap on the file to automatically install the modification.

Can this mod be run in a multiplayer game?

Yes, for this it is enough just to be the owner of the card and install this modification on it.

What if the mod doesn't work?

Try to activate the experimental game mode.
download anchor
Download Ambient Sounds Mod for Minecraft PE