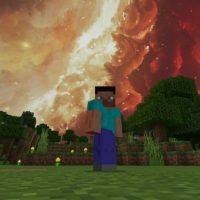 Sky Texture Pack for Minecraft PE
Version MCPE: 1.2.0 - 1.20.31
Download
Download Sky Texture Pack for Minecraft PE: change the usual look of objects and surprise your friends.
What is new in Sky Texture Pack?
In the world of Minecraft PE, almost all objects look special, they are quite recognizable, but there is little realism in them.
The creators of the Sky Texture Pack have changed its appearance of it so that now the hero will want to look at it for a long time and stay in the game longer because it looks very beautiful.
Realistic
In this update for Sky Texture Pack, users will be able to enjoy the incredible view in Minecraft PE. As soon as the hero enters the game space, the clear blue sky immediately catches the eye.
At the same time, the author also added animation of the movement of clouds, it looks really amazing. It is so nice to watch them fly overhead. By the way, even at night, players will be able to see clouds overhead.
Moving Magma
If users want something unusual instead of the standard view and white clouds, then this texture pack for Sky Texture Pack will definitely not leave anyone indifferent.
The fact is that with its help, the appearance of the world will completely change. The firmament will be painted in all shades of red, with twinkling stars.
At the same time, the clouds in Minecraft PE will still move beautifully. It is just fascinating, the hero wants to stay in such a world longer and enjoy the incredible beauty of such an update.
Interstellar
This update includes changes that the heroes will be able to see in Minecraft PE at night. During the day, nothing will change in the cubic world, everything will look the same as before.
But at night, instead of the usual Moon overhead, players will be able to see various space objects.
For example, with the help of this update for the Sky Texture Pack, the Andromeda Galaxy will replace the object familiar to Earthlings – this is the galaxy next to the Milky Way. It looks very unusual and gives the impression that the hero is somewhere in space.
How to install these textures?

Download and open it in Minecraft PE.

Can I use it on servers?

Yes, you are free to use it on public servers.

Can this texture pack be run in a multiplayer game?

Yes, for this it is enough just to be the owner of the card and install this modification on it.
download anchor
Download Sky Texture Pack for Minecraft PE