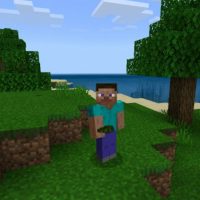 Grass Texture Pack for Minecraft PE
Version MCPE: 1.12.0 - 1.20.31
Download
Download Grass Texture Pack for Minecraft PE: discover a new amazing world.
What is new in Grass Texture Pack?
Every Minecraft PE user knows that there is quite a lot of vegetation and different types of greenery in the cubic world. But it all looks pretty monotonous, though quite recognizable.
The creators of the Grass Texture Pack have changed the appearance of almost all types of vegetation, adding more brightness and color to it.
Full
It is the greenery that surrounds the hero in the Minecraft PE world almost everywhere. Indeed, this is one of the first elements of the landscape, but no drastic changes were made in its appearance.
The authors of the Grass Texture Pack decided to change the blocks so that they become completely green. Whereas in the standard version, part of the block consists of earth.
With this update, the cubic world becomes brighter, richer, and, of course, greener.
Improved
In this texture pack for Grass Texture Pack, the developers managed to cope with an almost impossible task – to give the world of Minecraft PE incredible realism.
All the greenery will become very bright and green, it creates an atmosphere of tranquility. The hero will certainly want to stay in such a world to create something new or go on a journey through it.
In any case, the appearance of the environment will be remembered for its beauty and realism.
Colorful
In the real world, different tree species have noticeably different foliage colors and textures. Now it is also available in Minecraft PE. The developers of Grass Texture Pack have created a truly unique update for all users.
Added four texture options for water lilies and vines. Cacti with flowers and blooming potato bushes will also appear in the cubic world.
But the most interesting thing is that flowers will appear even on iron golems. It looks incredibly beautiful and very unusual.
How to install these textures?

Download and open it in Minecraft PE.

Can I use it on servers?

Yes, you are free to use it on public servers.

Can this texture pack be run in a multiplayer game?

Yes, for this it is enough just to be the owner of the card and install this modification on it.
download anchor
Download Grass Texture Pack for Minecraft PE