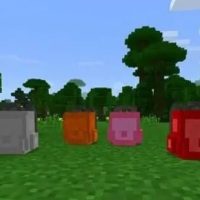 Backpack mod for Minecraft PE
Version MCPE: 0.14.0 - 1.20.31
Download
Download Backpack mod for Minecraft PE: try putting on from simple backpacks to exotic vanilla packs!
Backpack mod for MCPE
Minecraft PE players often complain that they lack inventory space while surviving far from home in the cubic world. Since you can't carry a chest with you, it always became a huge problem. You are presented with this assembly of three modifications.
Bags and even vanilla backpacks will make your life very easy.
Backpack
This addon is suitable for the earliest versions of the Minecraft Pocket Edition and, at the same time, is the most extensive. The game will feature two different backpacks, which will have several different styles.
The packs will vary significantly in capacity, with some containing 27 items and others more similar to a portable chest – 54. The craft of backpacks may seem complicated enough for users.
The first step is to get a particular skin, combine it with threads, make a bound skin, then make it in the oven nine doubles and finally scratch a small or large backpack.
Bag
The Minecraft PE Bag Mod has a standard and straightforward functionality, which at the same time is its main advantage. Each backpack will have its inventory interface, which will appear when you put your things in it, and a beautiful and quality model.
To use it, you have to go up to it to pick it up on your back. If you want to take something out of it, you have to put it on the ground, press it and open it.
Vanilla

Backpacks
The modification to vanilla backpacks for MCPE is the most interesting in the presented assembly. The bags that the player can use in this fashion are distinctly different from all the others, as they will be full-fledged mobs, namely replaced parrots.
To begin with, you will have to make a short journey around the world and find one of the backpacks, after which you will have to conduct the domestication process with one emerald and paint in any color.
After all the machinations, the backpack will jump on your back, and your inventory will be slotted as if you were carrying a single chest.
How many colors of backpacks is in the addon for MCPE?

There are six different colors.

How can I put a backpack on my back?

You have to come closer and it'll jump on your back.

Where can I get backpacks?

You may craft or find them.
download anchor
Download Backpack mod for Minecraft PE