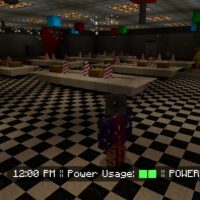 FNAF 2022 Edition Map for Minecraft PE
Version MCPE: 1.18.0 - 1.20.31
Download
Download FNAF 2022 Edition Map for Minecraft PE: new incredibly creepy adventures that will definitely be remembered for a long time.
What is new in FNAF 2022 Edition Map?
FNAF 2022 Edition Map brings players back to the already beloved world of horror adventures. This time, the developers have improved and completely updated the locations and added new features.
Creepy animatronics in this update for Minecraft PE has become even stronger and faster. They are waiting for the right moment to attack the hero again. The action takes place in a pizzeria, where the guard remained to keep order. It has various rooms and surveillance cameras at its disposal.
Rooms
The largest and brightest location in FNAF 2022 Edition Map is the party place. It has large tables that are beautifully decorated. There is a festive atmosphere around, but dangers await the player everywhere.
The fact is that animatronics have the ability to move incredibly fast. It is impossible to predict where they will be in the next minute. Another is the back room.
The Minecraft PE hero must monitor the level of electricity consumption and if the level decreases, it can be reset. This can be done with the help of a generator, which is located in the depths of this room.
That is just one problem – it is very dangerous because if the hero is there, it will be easy for the monsters to corner him and deal with him.
Mechanics
The main place where the main character spends most of his time is in the office. There are surveillance cameras here that will help track the movements of animatronics.
Just like in the original game, in FNAF 2022 Edition Map for Minecraft PE, the hero must monitor the level of electricity and, if necessary, reset it using a generator.
Complicating this process is the fact that creepy monsters are constantly roaming around and want to deal with the hero.
How to download FNAF 2022 Edition Map?

Tap the file and open it in Minecraft PE.

Can I use this map with my friends?

Yes, the map can be used for a multiplayer game.

Can i use the map in the survival mode?

Yes, the map is suitable for the survival mode.
download anchor
Download FNAF 2022 Edition Map for Minecraft PE