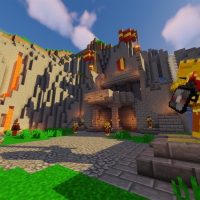 RPG Map for Minecraft PE
Version MCPE: 0.14.0 - 1.20.31
Download
Download an RPG map for Minecraft PE: let yourself be who you have always wanted to be.
RPG MCPE Map Highlights
RPG stands for Role-Playing Games. It's a videogame genre where users take the role of someone they want to be and act accordingly.
Besides, RPG games allow players to make choices, save cities and villages, rescue captives, and do nearly everything that comes to mind./p>
Minecraft Bedrock Edition is no RPG game but a sandbox survival. However, there are numerous RPG modifications and locations on the Web.
These diminish the borders users once had and let them do the impossible. You can become a merchant and sell goods or a warrior to purge the world from evil.
Generally, RPG MCPE maps can offer you unforgettable adventures in no time. Luckily for you, there are a lot of them.
Magic
According to the creators, they tried implementing as many RPG elements as possible. Consequently, Minecraft PE users can expect a giant map with a few towns.
Besides, these settlements are full of villagers to speak and trade with. Their quests might seem a bit too simple, but they offer tons of fun adventures to everyone willing.
The authors claim the Magic RPG MCPE map has been built manually and used no additional help. Therefore users can admire fantastic buildings, intriguing dungeons, and attractive shops all around the location.
Besides, you can become a real magician since you'll possess a magic wand to cast spells and save the cursed world of Minecraft PE.
Magic 2
Besides, this Minecraft PE has a sequel to it. It seems you can become a super magician after all.
Nevertheless, this foreboding stick is unavailable from the beginning: one has to earn it by helping other citizens with their chores.
The more you help, the better your reputation is. Once you've finished the map, you receive the most powerful wand and sorcerer's robe.
You are now free to explore this place worrying about someone's business no more.
Is this RPG MCPE Map large?

Yes, it features lots of buildings.

Can I replay this map?

Is there a storyline?

Yes, you want to become a powerful magician.
download anchor
Download RPG Map for Minecraft PE