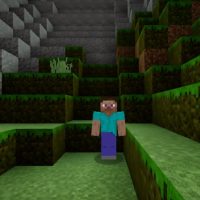 Real Life Texture Pack for Minecraft PE
Version MCPE: 1.2.0 - 1.19.63
Download
Download the Real Life Texture Pack for Minecraft PE, and make the surviving more realistic, add bright colors to the objects and nature!
Real Life MCPE Texture Pack
There are some attributes of real life in the world of Minecraft PE. But players always want to add even more naturalness to the gameplay. The developers suggest installing additional textures to let you see a completely realistic world.
The developers have worked to improve the visual part of the game. They added colors and shadows from the real world. You can also notice some changes in the blocks and objects of the game.
Flows HD Texture Pack
The main feature of Flows HD textures is their realism. Thanks to the shadows added to Minecraft PE, there is the effect of real life.
The effects are especially noticeable in the sky and on the water. The sun is also no longer cubic.
By the way, some blocks have also acquired a more natural look, for example, wood. And on the blocks of land, you can see grass.
Realistico Texture Pack
You can add real life to the Minecraft PE world by using the Realistico texture. It will be a great addition to the pocket version of the game.
Blocks of 256 pixels will look much better. There are shadows and details of objects which will be added to the game reality, lighting will improve, and foliage on trees will gain additional volume.
Realistic Vanilla Texture Pack
This Texture Pack will update Minecraft PE, making it look like real life. At the same time, some mobs will receive small changes, and the spawn eggs will be in the same style.
If you want realism but at the same time do not want to lose the familiar style of play, then you will definitely like this texture set. There are a lot of blocks that you can see in a different way. For example, ore blocks will get updated textures and become more natural.
The glowing octopus will be a bright blue color to resemble a real animal.
What if the texture pack doesn't work?

Try to activate the experimental game mode.

Can I use it on servers?

Yes, you are free to use it on public servers.

How do I install this texture pack?

The file is in .mcpack extension, so just tap on the file to automatically install the modification.
Download Real Life Texture Pack for Minecraft PE