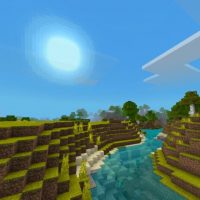 Render Dragon Shaders for Minecraft PE
Version MCPE: 1.16.0 - 1.20.32
Download
Download Render Dragon Shaders for Minecraft PE: add new effects, better lighting, improved colors, and realistic shadows to the game world!
Render Dragon Shader for MCPE
This addition for Minecraft PE is a very unusual resource pack. Its functions are similar to both shaders and textures. But it does not apply to any of the additions.
The file weighs significantly less than a regular shader. Meanwhile, the changes will be noticeable to any player. For this reason, the Render Dragon resource pack cannot be called a simple texture.
The developer managed to create an addition to the world that fully adapts to the game.
Main features
Render Dragon shader for Minecraft PE will add realistic clouds, bright sun, new moon textures, weather changes, new shades of water, and other additions.
The color of the water and its transparency will change depending on the depth and other blocks.
In addition, some materials will acquire new textures. For example, the glasses will be more transparent and beautiful. Steve can use this feature during building a house with windows.
The shader adds lighting and will enhance the colors of many biomes. It is worth going to the caves to appreciate the renovated space. And the tropics will acquire bright colors and will look like real ones.
Other additionals
Looking up, Minecraft PE players can see a bright blue sky and improved clouds. Weather changes will look more natural. For example, sometimes there is beautiful blue fog.
Additional flora animation is one of the advantages of the Render Dragon shader. There are waving plants in the game territory making the world more realistic.
It is important to use the experimental game mode with this resource pack.
Installing this addition is the easiest way to make the game world better, brighter, and more colorful!
What if the shader doesn't work?

Try to activate the experimental game mode.

Can I use it on servers?

Yes, you are free to use it on public servers.

How do I install this shader?

The file is in .mcpack extension, so just tap on the file to automatically install the modification.
Download Render Dragon shader for Minecraft PE