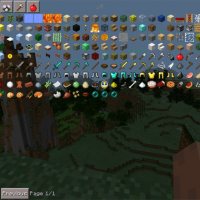 Too Many Items Mod for Minecraft PE
Version MCPE: 0.11.0 - 1.20.31
Download
Download Too Many Items Mod for Minecraft PE: Use twice as many of the items from your inventory to show your creativity to total capacity!
Too Many Items Mod for MCPE
Although the blocks and things in Minecraft Pocket Edition are very long and take a long time to get acquainted with all things, many users in the gaming community have long been short.
Especially for this purpose, the developers of addons tried and presented a significant expansion of users' game arsenal and creations. You can get acquainted with Addons in this build.
TooManyItems
This modification is classic and the best present, which has long since become popular among many players. With this tool, you can easily control your inventory and what's in it. It is also easy for you to navigate between day and night with the help of the various buttons that appear in the gameplay.
All you have to do is press the "M" button in the bottom corner, and the whole command panel will open in Minecraft PE.
Using it, you can get any block, change modes and weather, restore health, kill yourself, and even set up mobs you want to flood.
Advanced Too Many Items
The following addon, which you are presented with, is called Advanced Too Many Items and, as the name already indicates, you will receive an improved version of the past fashion. Here you can find more features that will simplify your playing life in the cubic world.
Also, the developers changed the old interface to a more attractive and modern one, which a lot of users liked in MCPE.
Now the activation button is on the top left. You can remove all mobs nearby, set creatures on fire, install a certain amount of HP, and even use a unique teleport system.
Too Many Ores
The Too Many Ores mod is a unique supplement that will add many more ores, tools, and a few things to the Minecraft Bedrock Edition.
Here you will meet Quartz, Ignis, Titanium, Frozen Ores. The blocks will be fire crystals, helmets, and even boots, and much more!
Each weapon created from a new ore will have unique effects and abilities that were not present in any previous game version.
Is new ores in the addon for MCPE?

Can I craft new items in Minecraft PE?

Where can I get these items?

You may craft or find them.
download anchor
Download Too Many Items Mod for Minecraft PE