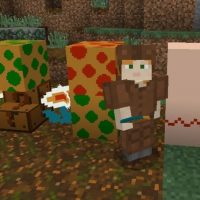 Super Mario Texture Pack for Minecraft PE
Version MCPE: 1.6.0 - 1.20.32
Download
Download Super Mario Texture Pack for Minecraft PE: transform the familiar world, making it brighter and more colorful.
What is interesting in Super Mario Texture Pack?
At the end of the 20th century, there was not a single child who did not play at least once in an exciting video game called Super Mario Bros. But even those who were not lucky enough to help the brave little man in his adventures knew about this character.
No wonder this game is listed in the Guinness Book of Records as the best-selling in the world. And Mario himself has become a symbol of Nintendo.
In the 21st century, the game is not as popular as before, but the developers still decided to recreate the original world in Minecraft PE. Super Mario Texture Pack allows players to transform the cubic world with new colors and unusual objects.
Blocks
In Super Mario Texture Pack, users have access to a large selection of blocks, in the style of a popular game of the last century.
10 different options, including the famous question blocks, mushrooms, and flowers. By the way, legendary Mario stars and coins are available to players.
All these elements will help to create a more interesting and unusual world in Minecraft PE. Fill the space with bright colors. This update will appeal to all fans of the original game, but those who have never heard of it will also find interesting moments for themselves.
After all, it is always important that the familiar world changes and gets new opportunities.
Graphics
In Super Mario Texture Pack, the developers recreated the main elements in as much detail as possible, which were remembered by all fans of the original game.
Now players can transform the familiar world by adding new bright colors to it. Incredible adventures and exciting journeys are waiting ahead.
The world of Minecraft PE has never been so familiar and at the same time truly new. The developers have tried to fully transform the gameplay so that each user can create their own unique world.
How to install these textures?

Download and open it in Minecraft PE.

Can I use it on servers?

Yes, you are free to use it on public servers.

Can this texture pack be run in a multiplayer game?

Yes, for this it is enough just to be the owner of the card and install this modification on it.
Download Super Mario Texture Pack for Minecraft PE