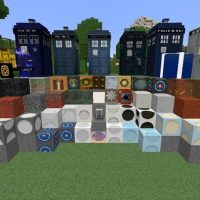 Doctor Who Mod for Minecraft PE
Version MCPE: 1.13.0 - 1.20.32
Download
Download the Doctor Who mod for Minecraft PE: creatures from other dimensions and numerous new items.
Doctor Who MCPE Mod Highlights
Doctor Who is one of the most popular British series about parallel worlds, tremendous threats from aliens, smart men and women, and more.
Luckily, there is a plurality of Doctor Who fans among the Minecraft community. Thence the Web is full of intriguing maps, lovely textures, and unique mods.
Doctor Who modifications introduce some bizarre-designed mobs that are not so friendly. Furthermore, you might encounter well-known characters from the original series.
Generally, Minecraft PE users will undoubtedly experience something completely new and compelling.
Mobs
Doctor Who Mobs Packs features a variety of frightening weapons, convenient and useful items, rare mobs, and more in Minecraft.
However, we must point out that most of the existing mobs have been replaced with creatures from Doctor Who. It means you won't meet regular zombies, skeletons, and even creepers.
For example, Carrionites took the witch's place and lurks in the swamps. Silurians can be found in deserts because Husks are no more a thing in Minecraft Bedrock Edition.
On the other hand, Time War soldiers are a better and improved version of Vindicators. These enhanced warriors appear in Woodland Mansions only.
Sea Devils are prominent fighters replacing Drowned in Minecraft PE. These are strong enough to get rid of unguarded users in no time.
Items
Notwithstanding, players have new items to combat these unwelcome and unwanted guests. Sontaran rifles replace standard bows and give you a significant advantage over melee-fighting enemies.
It has its own sounds in Minecraft, meaning more exciting gameplay for all warriors. Besides, there is a laser pistol instead of arrows from actual sandbox survival.
Generally, many users will be happy to know new mobs and weapons are now in Minecraft PE.
Where do I find all these mobs in Doctor Who MCPE Mod?

Can I join alien forces?

No, you can only fight them back.

How do I get new weapons?
download anchor
Download Doctor Who Mod for Minecraft PE