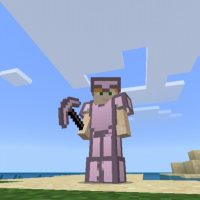 Pastel Texture Pack for Minecraft PE
Version MCPE: 1.16.0 - 1.20.32
Download
Download Pastel Texture Pack for Minecraft PE, and add interesting features to armor, weapons, and other items!
Pastel MCPE Texture Pack
There are many variants of textures for Minecraft PE players to make the visual part of the game world more exciting. For example, Pastel Texture Pack can add new colors to armor, weapons, and other items.
Pinkstelic
The developer of this Pastel textures set has created a wonderful set of textures for Minecraft PE in nice pink tones. Pinkstelic resource pack will be perfect for those players who want to make the game world updated, add new colors, and improve the textures of objects.
Changes
First of all, Minecraft PE users will not notice changes in the standard armor. New pastel-colored armor has appeared for battles. The player also can use updated weapons, which also will receive additional pastel colors. You can see some changes connected with textures of blocks.
By the way, the tools for resource extraction have also received changes.
Pastel Wool
This texture pack will bring some changes the wool in the Minecraft PE game world, making it brighter and more beautiful. Players who like pastel colors will definitely love this set of textures.
All colors of wool will have changes, except black wool.
Features
Texture Pack gives Minecraft PE players access to 11 additional wool colors. Among the new colors will appear pastel red, purple, orange, brown, yellow, pastel lime, green, light blue, pastel pink, and other colors.
Players should use the experimental mode with this resource pack to make it work.
The new wool is also clearer visually, so lovers of clear lines will like this resource pack. This set is suitable not only for an ordinary survival mode but also for mini-games, such as Bed Wars or Pixel. Pastel textures will help players for creating art wool in the game world.
What if the texture pack doesn't work?

Try to activate the experimental game mode.

Can I use it on servers?

Yes, you are free to use it on public servers.

How do I install this texture pack?

The file is in .mcpack extension, so just tap on the file to automatically install the modification.
download anchor
Download Pastel Texture Pack for Minecraft PE