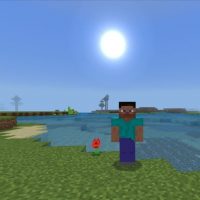 Seus Shaders for Minecraft PE
Version MCPE: 1.0.0 - 1.20.32
Download
Download Seus Shaders for Minecraft PE: make the game world more realistic, add bright colors and natural shadows, improve image clarity and contrast!
Seus Shader for MCPE
There is a huge variety of items and blocks in the world of Minecraft PE. The image inside the game depends on lighting. There are different ways to improve it.
The best is to use a shader. It's a special filter for lighting, which helps to see the game space as similar as possible to the real one.
Shaders add realism, smoothness of lines and volume to objects. Every day developers create new shader variants and improving them.
Every shader creator wants to see the world of Minecraft PE in his own way. This creates a choice for the players because all shaders are different. Players from all over the planet share their developments, so everyone can find suitable variant.
Features
There are several shaders which improve the lighting. Seus is among them. Experienced players know that these shaders were available in the PC version before. Finally Pocket Edition users can make their world better thanks to Seus too.
Players can download three variants of Seus for Minecraft PE. There is a file for weak, medium and powerful devices.
After installing Seus shaders, it is easy to notice changes in the game lighting. Looking at the sky you can observe realistic clouds. Appreciate the realism of the sun and sky, at night there is a moonlight in the water. All the objects look more natural and close to the real life.
Details
Players can see other changes in their Minecraft PE. For example, small details become clearer, especially objects glare and shadows.
Steve definitely should visit the Nether and find lava and fire blocks to appreciate the changes.
Players need to activate experimental mode to make shaders work.
What if the shader doesn't work?

Try to activate the experimental game mode.

Can I use it on servers?

Yes, you are free to use it on public servers.

How do I install this shader?

The file is in .mcpack extension, so just tap on the file to automatically install the modification.
download anchor
Download Seus shader for Minecraft PE