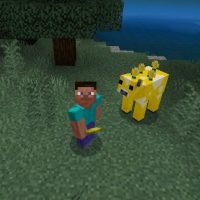 Biomes Mod for Minecraft PE
Version MCPE: 1.12.0 - 1.20.31
Download
Download Biomes Mods for Minecraft PE: get a lot of interesting new weapons and tools, explore new places, meet cool mobs that can drop a lot of unusual items!
Biomes Mods for Minecraft PE
These Mods for Minecraft PE is an interesting adventure in new territories with real animals and cool equipment.
Expansive Biomes
The main feature of the Expansive Biomes Mod is very beautiful and really realistic territory.
The developers have tried to make this add-on for Minecraft PE memorable, so it includes more than 20 new biomes. Each location is unique.
The player can explore incredible locations, find many interesting things in these lands.
This mod is really a godsend for all MCPE players.
Locations
There are a lot of interesting and beautiful biomes waiting for players in this location for Minecraft PE.
The Frosty forest is very cold and you can meet yeti there. The Mysterious forest has a lot of monsters spawned in its territories.
The Swamp is an area with high humidity with shallow lakes and lumps of mud. The Pine forest is a biome consisting of pine trees and ferns.
By the way, grizzly and black bears can spawn in the Pine forest.
The desert of Expansion Biomes is a hot area where cacti grow and the surface is covered with red sand.
Weapons and armor
There are two variants of equipment are presented in the Expansion Biomes Mod for Minecraft PE: grizzly skin armor, which is improved compared to iron equipment.
The second option is vibranium armor. It is quite durable and some parts of it can glow in the dark.
Mobs
The Expansion Biomes mod offers players interesting animals. They can spawn in various places, which makes this Minecraft PE add-on more interesting.
The game retains the gameplay familiar to all players, while the main functions remain unchanged.
Mobs can also share various valuable items, such as:
The skin of a black bear or grizzly;
venison, antlers, or a trophy is a very rare drop from a deer;
frog legs.
Biome Randomizer
The main feature of this mod for Minecraft PE is filling the biome with ore blocks.
Now there will be no dirt, grass, or stone, instead, there will be blocks of iron or gold.
And in some cases, you can even find blocks of lapis lazuli or diamond.
Survival may be complicated by the fact that generation occurs randomly.
Biomes Craft
The developers have added a lot of new places. YBiomes Craft for Minecraft PE allows you to turn survival into an exciting adventure.
Locations will change each other, each time opening something new for the player.
Cold or hot, forest or desert areas. It's very cool that each biome has a certain kind of animal.
Incredible adventures await!
How do I install this mod?

The file is in .mcaddon extension, so just tap on the file to automatically install the modification.

Can this mod be run in a multiplayer game?

Yes, for this it is enough just to be the owner of the card and install this modification on it.

What if the mod doesn't work?

Try to activate the experimental game mode.
download anchor
Download Biomes Mod for Minecraft PE