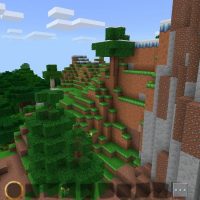 Dragon Dance Texture Pack for Minecraft PE
Version MCPE: 1.16.0 - 1.20.32
Download
Download Dragon Dance Texture Pack for Minecraft PE: updated graphics and improved features for more comfortable gameplay!
What does the Dragon Dance Texture Pack add?
Dragon Dance Texture Pack differs from other updates with a completely new approach to updating the Minecraft PE world.  Thanks to this, the graphics in the game look original and very unusual.
An incredibly bright color palette that amazes at first glance. Each item has received various changes, which creates a fresh and unique image.
Main Features
With Dragon Dance Texture Pack, every user can plunge into the atmosphere of carelessness, magic, and fun. Endless summer, so you can characterize this update for Minecraft PE.
Stunning graphics are the hallmark of this modification. Some items have been changed almost completely. Including their appearance and structure.
If you look closely at the texture of tools and weapons, you can see how each element was worked out in detail. The developers have done a really great job to ensure that no one remains indifferent.
The game space has become brighter and cozier, also can even say cartoon. Everyone wants to stay longer in this absolutely peaceful place.
Graphics
No wonder Dragon Dance Texture Pack is one of the most popular texture packs for Minecraft PE. After all, the developers have created a truly unique appearance for each element.
The high resolution of the textures allows you to make the game more enjoyable compared to the standard settings.
A peculiar and unique update, successfully combines bright colors, thanks to which the appearance of the cubic world will change completely.
Rich and vibrant colors, a completely changed structure will be remembered by players and will allow them to spend an unforgettable time with their favorite game.
Do not forget to turn on the Experimental Game mode!
What if the texture pack doesn't work?

Try to activate the experimental game mode.

Can I use it on servers?

Yes, you are free to use it on public servers.

How do I install this texture pack?

The file is in .mcpack extension, so just tap on the file to automatically install the modification.
download anchor
Download Dragon Dance Texture Pack for Minecraft PE