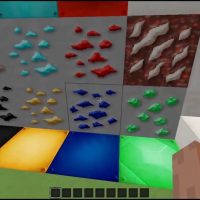 Defscape Texture Pack for Minecraft PE
Version MCPE: 1.1.0 - 1.20.32
Download
Download the Defscape texture pack for Minecraft PE: make your world look simpler and your life feel easier.
Defscape MCPE Texture Pack Highlights
Fortunately, Minecraft Bedrock Edition is full of various modifications, mods, maps, and addons, drastically changing the game.
Even though many of them only feature a few changes, several additions will make your sandbox survival look completely different.
Texture packs have always been the most notable game-changers. Applying these to Minecraft PE, users turn their gameplay into something more exciting.
Some of them resemble tranquility and peace, while other focus more on realism and dark shades of existence. They freshen up Minecraft anyway.
Overhaul
Defscape textures belong to the Simple category because of how they look like. Developers concentrated on easing and calming down the environment instead of making it even more terrible.
Therefore Minecraft PE may resemble something cute and adorable. According to the creators, they intended to attract as many talented users as possible.
Furthermore, Defscape textures might fit some maps' aesthetics. A special place to entertain yourself and rejoice with friends will get better thanks to these MCPE textures.
Blocks
The creators claim they attempted to change nearly all existing blocks in the game. Surprisingly enough, they did succeed, and thus there is no old-looking block whatsoever.
Moreover, hostile and friendly creatures of Minecraft PE have been altered as well. However, one has no reason to worry: all mobs have become more attractive.
For example, Minecraft creepers smile but still want to explode near a user. On the contrary, zombies have no simper on their faces, but they generally got daintier.
Long story short: the game is prettier and less dangerous henceforth, thanks to Descape textures.
Is Defscape MCPE Texture Pack magnificent?

Yes, it is splendid indeed.

Can I use it on servers?

Yes, you are free to use it on public servers.

Have weapons chaged their textures?

Yes, weaponry changed alongside other things.
download anchor
Download Defscape Texture Pack for Minecraft PE